Last Saturday we have had an activity that shows us the origin of the fishing port in Vigo, the "Casco Vello", and our old town. We started our "Percorre" admiring the "Ría de Vigo : an estuary that has a fantastic and natural protection moreover an excellent draft that make that we were involved in the trade routes in the Atlantic and Mediterranean Sea from ancient times, as we know by the archaeological remains that were founded in many pre-Roman settlement .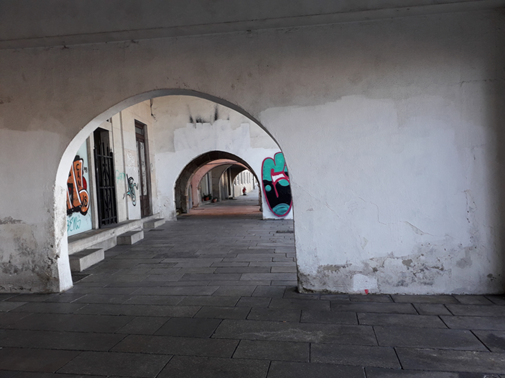 We talked about Romans and they luxurious life style in the "Villae"; they were the first industrious of our Bay.
We advanced in times and we arrived to medieval times. We entered in the Old Town; throughout their history it has been attacked many times, such as the aggressions of the famous corsair Francis Drake or the invasion at the Reconquer times.
We arrived at "Ribeira do Berbés" by descending Real Street. This quarter owned to the "Guild of fishermen". Nowadays there are not more traditional boats, like "Dornas" or "Bous" under the protection of the waterfront colonnades.
We carried on our "Percorre" tour entering in the facilities of the port, comparing the great development of the fishing industry, from the traditional boats such as "dornas" to the huge freezer vessel like the "Golden Chicha" that fish so far away, at the Malvinas fisheries, to catch a nutritional and tasty squid . We really thanks "Lolo" to be so kind and to share with as every corner of the vessel.
The perfect culmination of the activity it were a group of dolphins that were playing so close to the vessel. Many thanks to all the participants to support this "on foot " tour with Vigo Pesqueiro. We are lloking forward to see all of you again in the next activity