Last week we carried out the most demanded activity from "Vigo Pesqueiro" program: "Discover the fish market" an activity from which we came out smelling of freshness, and impressed by the variety and quantity of species that after being auctioned in The Berbés fish market leaves Vigo to fill thousands of homes. Did you know that our port is one of the first fishing ports for human consumption worldwide? More than 800,000 tons of fish are unloaded annually!
Our guest was an internationally recognized Chef, author of the book: "No Crying in the Kitchen. A Memoir of a Teaching Chef "("Don't Cry in the Kitchen ")
During his visit to Vigo, the visit to the fish market was obligatory. Like many of our visitors, he was surprised by the variety of fishing grounds where fishermen from Berbés go to fish; which also bears the name of Gran Sol, in the fiercest Atlantic, but also in the Pacific, or in the Indian Ocean, in short … for all the "Seven Seas".
As a starter, we had a look at the river fishing, and to continue with the menu, the fishing of height and great height.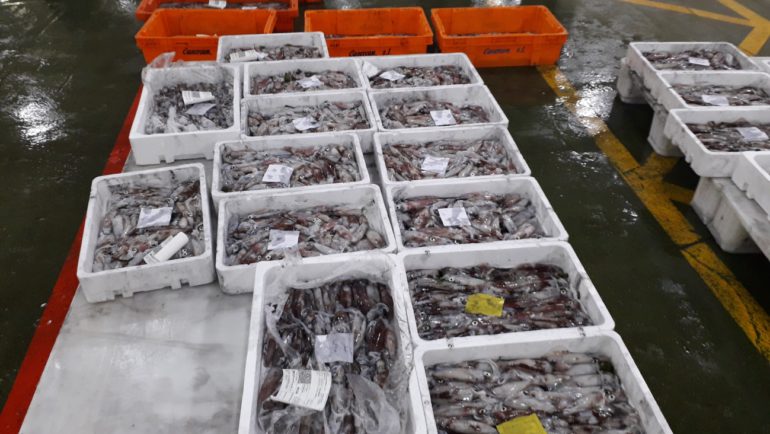 "@S Carrexóns", the people who pull a rick show to carry the fish, they were accelerated with the enormous load of fish, a nonstop; that frenzy and dynamism so characteristic of the sea guild and that somehow permeated the character of all citizens.
The songs of the Fish Sellers with the prices that fell rapidly were not unknown to the Chef, after having travelled markets and markets around more than half of the world. But in Vigo it was his first time; hopefully not the last one.
More than 100,000 kilos of fresh fish in that morning: we find horse mackerel, mackerel, monkfish, hake, … and also Peter's Fish, which here in Galicia is known as "San Martiño"; it has a beautiful legend associated, which blames the lunar apostle that this species has spots each side of his body.
Our guest felt homesick from his native Brittany, we say in galician "morriña", a sea and Atlantic land… and Celtic, like ours. He loved the activity "Discover the Fish Market", and also did we. We appreciated all the contributions and good humour of this internationally famous Master Chef who wanted to know about "The first port in the world".
If you want to receive our news, do not hesitate to subscribe to our newsletter www.vigopesqueiro.com See you soon!